Mitsubishi KuroKage XM Driver


Some shafts are simply too good to change. The Mitsubishi KuroKage Proto TiNi is one such shaft. The new KuroKage XM is the KuroKage Proto with new graphics and a wider range of weights. It is promoted as a mid launch – mid spin shaft. I view launch and spin as a propensity not an absolute. Your angle of attack, the club head loft,  where you strike and how the shaft, interacting with your loading and release, deliver the head are all part of the launch and spin equation. The XM, in the right hands, is not what I would define as mid launch / mid spin. But, shaft companies have to fill in those words for the golfing public.
The Mitsubishi website has always presented shaft EI graphics alongside their verbal descriptions. If you spend years looking at those charts and testing them on a wide range of golfers they being to have meaning. I view the difference between the KuroKage XM and the KuroKage XT as more feel related than launch. The XT has a stiffness bump low mid. That bump does contribute to a lower launch, but more important, gives a better sense of tip stability to a hard swinging late release golfer.
the KuroKage XM shaft has a Blue Diamana like profile, but it is stiffer in the midsection. It looses stiffness at a uniform rate down to about 12 inches where it then stiffens into the tip. The tip torque is consistent with the third generation Diamana's. The shaft to shaft consistency and radial quality are typical of Japanese made Mitsubishi shafts, excellent. This shaft is made with high density material and has Titanium Nickel wire wrapped into the tip section. The TiNi wire creates tip stability that translates into tight dispersion. When you watch the number 1 player in the world hit fairway after fairway of the tee, look at the shaft he is playing.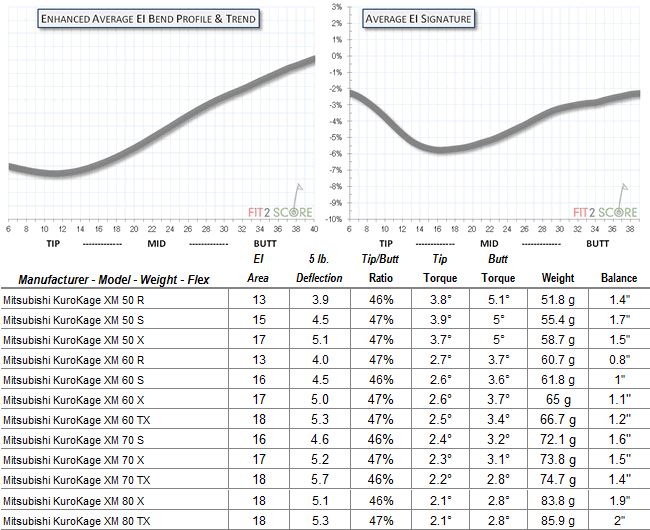 This version of the KuroKage XM comes in more weights and stiffness than the original model. The 50 gram shafts are unique in the Mitsubishi model families. They have much the same stiffness as the 60 gram versions however they have softer torques. That brings an interesting fitting possibility to the table. A smooth early release often likes the feel of higher torque. We will be looking into using this variable to see if it can lessen the rotation of the head on players that are still twisting the shaft through impact.
The numbers below are from a fitting I did this morning. They are consistent with what those of us that have been fitting with the MRC dealer only KuroKage Proto TiNi have been seeing for years. There is not a lot that needs to be said for this shaft, it speaks for itself.