Graphite Design Tour AD Iron Shaft Review

I have fit almost exclusively with steel iron shafts for many, many years. When I built EI measuring instruments I checked shaft to shaft consistency in graphite iron shafts. I would not build with what I saw. When some premium shafts came to market last year I checked set consistency and saw what I most always see in steel. consistent profiles through out the sets. Furthermore, I saw steel like stiffness and torque in much lower weight shafts. Now that I am at an age where weight matters the stiffness to weight ratio of premium carbon fiber iron shafts got my attention.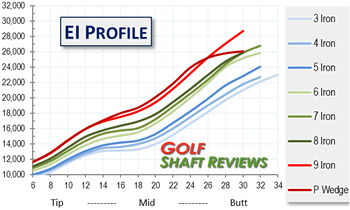 The Graphite Design Tour AD Iron shafts are not a new product. But my renewed interest in Carbon Fiber iron shafts prompted me to ask for review samples. They came, multiple shafts in 11 different weight / stuffiness models. It took quite some time to measure them. The good news, as you can see in this chart, the profiles inside the sets are consistent. They generally have the same stiffness as steel that is 20 grams heavier. These shafts are worthy of the Graphite Design Tour AD brand. Lets take a close look at the specifications.