Grafalloy Prolaunch Supercharged Drive Shafts

The Grafalloy Prolaunch Blue and Red Supercharged drive shafts are 2015 additions to the ProLaunch product line. They are $60 shafts with radial quality of 98.3% with a standard deviation of 0.6%. If you have not been reading this site and looking the radial quality numbers I will translate this for you, one word, impressive. Shaft to shaft consistency of the review sample profiles was equally impressive. I did not think a $60 shaft would get my attention. I was wrong.
If the $300 to $500 high end works of shaft art technology are not in your budget, try the Grafalloy Prolaunch Supercharged in your driver. You are going to give up some hoop stiffness and might experience some ovalizing. If that is a problem you can always get a similar design in the Project X LZ for around $350. The SuperCharged Prolaunch has a similar design to the handcrafted Project X LZ shaft, an active midsection. Does this design work for you? If you are not close to a fitter that can let you test the Project X LZ you can try a low cost test on your own with the ProLaunch Supercharged shafts.
The Blue is a higher launch design, the Red a lower launch.  To my eyes they are much the same profile. The Red is heavier and stiffer. The bend point is higher. Those two properties are going to lower launch. This is not really complicated stuff to understand. Stiffer is lower for any particular golfer. Find the stiffness you feel you can load. Then, going a little softer or stiffer will move the launch up or down.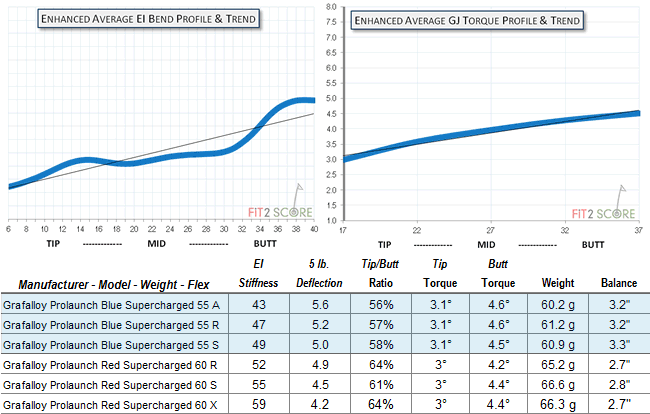 Look at the balance in this chart. These shaft are counterweighted to restore club balance when using the current generation of heavy driver heads. This is not seen at this price point.
This profile, a softer active midsection is gaining traction with the shaft companies. With this set of profiles, this particular pattern got my attention. Soft midsections are among the most popular shafts in the business. Exaggerated soft is a design I am beginning to see from a lot of shaft companies. it looks like one needs to go in my bag.