Mitsubishi Tensei Pro White 1K Driver Shaft Review

The woven Kevlar® material use by Mitsubishi Tensei Pro driver shafts have been available since 2016. They feature a Carbon Fiber/DuPont™ Kevlar® (CK) weave in the butt-section of the shaft.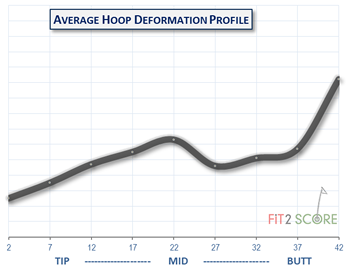 I have seen many shafts over the years with a woven material placed in the butt of shafts. This is as an indication that shaft manufactures recognize the thin walls near the but of the shaft deform and oval under load. The ovaling of the shaft in this area can contribute to shot dispersion. The woven Kevlar® material use by Mitsubishi is the only material I have measured to date where I can see a measurable effect. Hoop deformation significantly dips in this section of the shaft. Reduced hoop deformation in the 1K weave is the same as the CK weave. Mitsubishi tells us the 1K material transmits more feel.
Hoop deformation has a significant effect on the EI profile of the golf shaft.  Hoop deformation is manifested in the thin wall, butt section of the shaft. Mitsubishi engineering integrated the woven material hoop rigidity into the Tensei Pro designs, preserving the archetypical White, Blue and Red Board profiles of the Diamana family.