Aerotech SteelFiber Players Spec Iron Shafts –
Ascending Weight Taper Tips
Brandt Snedeker and Matt Kuchar brought AeroTech Steel Fiber golf shafts out of the closet. At one time they were known only to custom club builders. In 2014, they will be in some of the fitting carts.  The Players Spec AMI99 is a unique shaft, it is ascending weight. The shaft gets heavier as it gets shorter. Most taper sets maintain the same weight. The Player Spec shafts ascend from 94 gram 3 irons to 108 gram wedges. This creates swing weighed sets that come close to being MOI matched.
Aerotech SteelFibre shafts have a stainless wire wrapped over a filament wound graphite core, combining the properties of steel and graphite into the shaft. The review of the Aerotech constant weight SteelFiber shafts covers this technology. Because the shafts ae filament wound, they are virtually spineless, the radial consistency measurements often show shafts with perfect numbers.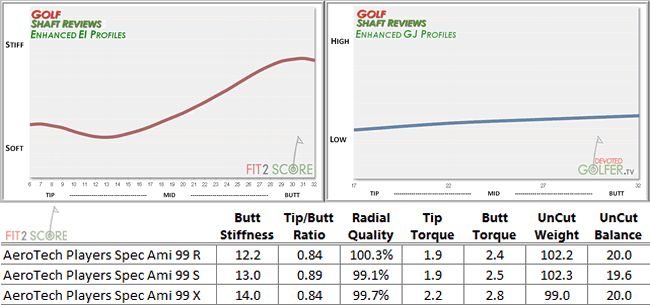 The bend profile of the Player Spec is almost a perfect match to the Dynamic Gold R300. It is 25 grams lighter. Perhaps that is the attraction on the PGA Tour. Light weight irons shafts with similiar profiles to heavier weight steel. If your looking to shed some weight from your irons, and are attracted to the idea of having the shaft weight increase as your head weight increases, this is one of the very few shafts that offer this feature.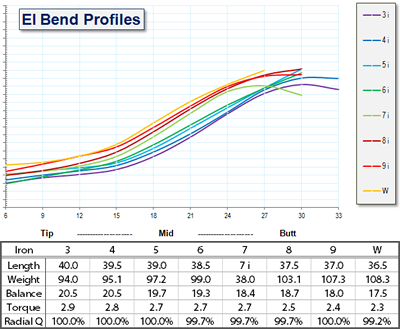 I have check many sets of AeroTech Steel shaft for consistency. The result is always the same, they ascend consistently in stiffness from shaft to shaft in the set. This chart illustrates that and the table below it shows how the weight increases from shaft to shaft in the set.
I have known Chris Hilleray, the  owner of Aerotech for a long time. This video was shot at the 2012 PGA merchandise show in Orlando, Aerotech had just been discovered on the PGA Tour. Chris is a busy man these days and I have become a better producer of interviews.