Mitsubishi Tensei 1K Pro Blue Golf Shaft Review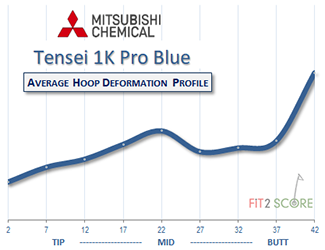 The Mitsubishi Tensei 1K Pro Blue joins the Tensei 1K Pro White and the Tensei 1K Pro Orange reviewed earlier. The 1K carbon fiber replaces the CK, Carbon Kevlar woven material used in the earlier CK Pro version of this shaft. It is reported to be lighter and more consistent. Like the earlier CK weave the 1K weave significantly reduces hoop deformation of the shaft where the wall thickness is thin and is easily deformed.
Mitsubishi, unlike other shaft companies is vertically integrated. They make their own resin and carbon fiber which is combined into prepreg, the material that makes up the walls of golf shafts. They were first with high density prepreg, reducing the resin content by using high strength thin fiber. And despite the claims of other shaft companies to have the most shafts in play on tour, MCA's 595 Win Count (as of this writing) is hundreds ahead of the nearest competitor. MCA has held that lead for as long as i have been fitting. The CK weave and now the 1K weave are the only weaves I have seen that significantly reduce hoop deformation just below the grip of a driver shaft. And that translates into overall tighter dispersion.