True Temper Elevate Pro Golf Shaft Review

The True Temper Elevate was designed to launch the ball higher than it counterpart, the Dynamic Gold 120. Bill Lange explains the Elevate in this video shot at the PGA Merchandise show the year the Elevate was launched.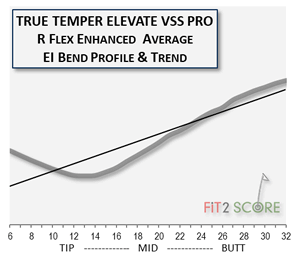 The Elevate is a traditional "Dynamic" design. The length from the shaft tip to the first step changes with flex. R Flex has a long tip section, S shorter and X shortest. There is also small increase in weight as stiffness increases. This image illustrates how that tip length changes the EI bend profile of the shafts. Lets take a close look at how this dual change in profile and weight influence stiffness and set makup.