Talamonti Driver Shafts
Phil Talamonti has had a long history in the golf business; President of Wood Brothers, Executive VP of Softspikes, President of SST Puring, and Founder of Advanced Shaft Dynamics. Advanced Shaft Dynamics was Phil's entry into the shaft alignment business. Several years ago he decided to launch his own shaft company. Early in that process he acquired one of my EI instruments. He used it to validate his designs and check the quality of the shafts he receives from his Chinese foundry. If you have looked around this site, you will see very familiar looking EI charts on the Talamonti Shafts Technology webpage.
I have not tested these shafts, my comments are based on comparing profiles to shafts I know. With this review I created a new category, Boutique Brands. These are smaller companies, with limited product lines, often created by someone with a lot of experience in the golf business.
Talamonti Lite-55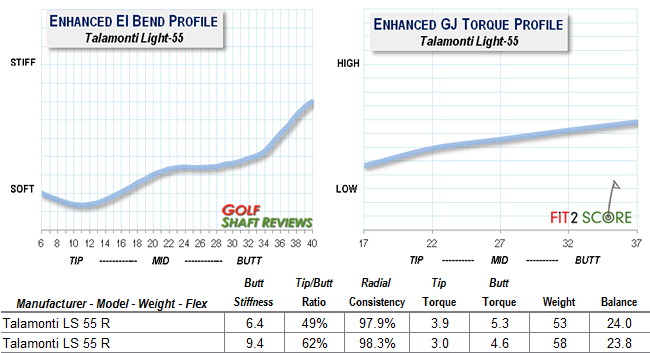 True to the description on the Talamonti website, this is a low spin, or perhaps better stated, low launch light weight design. I know this profile and have fit with it in another brand. its a classic low launch design. When I combine a low launch light weight design like this with a normal head weight I find the result is adequate launch with a piercing ball flight. I have had a great number of 'surprise' successes with this design when I am fitting someone with overactive hands. I have fit a number of strong players into light weight designs like this and created the perfect driver for them.
Talamonti HL-70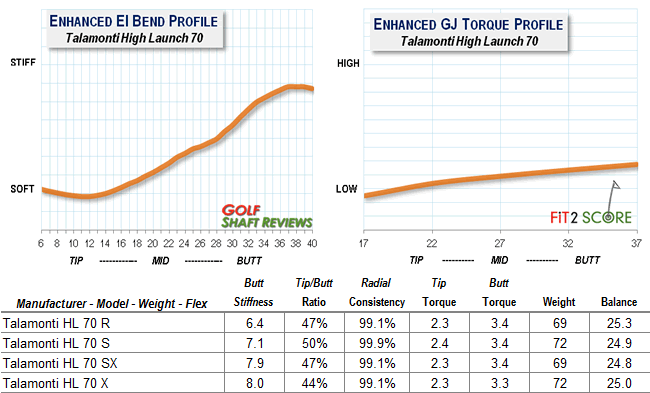 Like all the Talamonti shafts, the radial consistency of the Talamoni HL-70 is excellent. Every shaft has a subtle dot on the label indicating the 'ideal' alignment plane of the shaft. I found all the 'dots' to be on the soft plane. Aligning the 'dot' up or down will put the hard plane to the club head face. The marks were dead on, which I must credit to Phil's past experience with SST and Advanced Shaft Dynamics. The dot is subtle, and with the current generation of rotating head driver hosels, not something one needs to pay much attention to. The radial consistency of these shafts makes them suitable for use in any orientation.
The HL-70 design is not a stranger to me or to most golfers. This is the classic Blue Board design. Almost every manufacturer I know offers this design in some form or another. The mid region is soft in comparison to the butt and tip. If you transition aggressively from backswing to downswing you should try this design. it is the biggest seller in the golf business. If you are looking for a mid launch fairway, this is it. The Talamonti HL-70 has the kind of torque numbers you want in a fairway shaft. If you have dispersion problems with your stock fairway shaft, replace it with this shaft.
Talamonti LS-70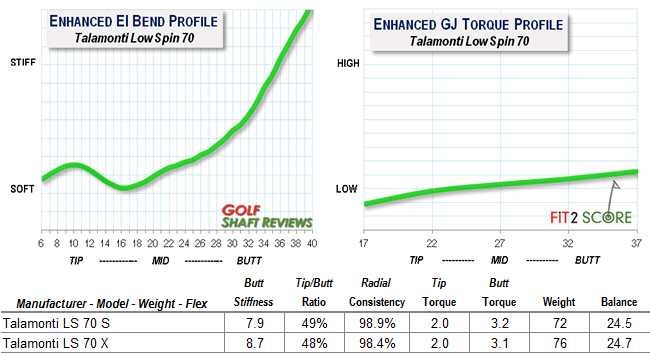 The HL-70 design is not a stranger to me. It has a mid range loss of stiffness butt to tip, a mid shaft stiffness hump, followed with a rapid loss of stiffness to high tip, where it turns up again to a stiff stable tip. Translation, this is a mid launch, mid spin design, with a solid tip. With this kind of radial consistency, this is a bargain at $225 uninstalled.