ACCRA Concept CS1 Driver Shaft
By Russ Ryden, A Golf Digest America's 100 Best Clubfitter
Fit2Score, Dallas Fort Worth, Texas


Premium Golf Management evolved from a Canadian distributor of golf shafts to a producer of the ACCRA brand of golf shafts. They have long term business relationships with most of the professional golf club fitter / builders in the world. The golf fitters that attend the annual PGA merchandise show in Florida all arrive a day early for ACCRA day. A day of golf hosted by ACCRA  gives them all a chance to renew relationships and exchange ideas.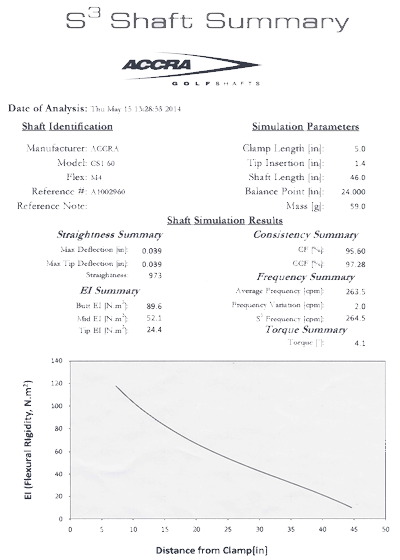 The 2014 Concept CS1 is another step in the evolution of ACCRA. Shown to the right is a shaft summary document that comes wrapped around every Concept golf shaft.
Several years ago PGMC, purchased one of the Fit2Score shaft measuring instruments. It brought manufacturing consistency into focus as it has now for the several shaft companies that own the instrument. Through a partnership with Mark Timmes a fully automatic shaft measuring instrument was invented.
The ACCRA Concept CS1 is on the cutting edge of shaft design. Find an
ACCRA fitting partner
and take one for a test drive.