FUJIKURA MOTORE SPEEDER DRIVER SHAFT
Fujikura shafts continue to dominate the PGA Tour and Champions Tour with wins and number of shafts in play. The original Speeder earned the reputation as the "winningest shaft on tour" back in 2000, and Fujikura has not lost momentum since. The latest version of the Speeder – the Motore Speeder – continues the tradition of the original. The Motore Speeder comes in three "regular versions" (the VC .0, the VC .1, and the VC .2), and two "Tour Spec versions" (the VC .2TS and the VC .3TS). The VC .0 and VC .1 versions are offered in mid 50, 60 and 70 gram models. The VC .2, VC .2TS and VC .3TS versions are offered in mid 60 and 70 gram models. Generally speaking, as the numbers of the models increase, the launch and the spin of the shaft decrease. In other words, if all other variables are equal, the VC 5.0 will launch higher and spin more than the VC 5.1, and so on up through the line.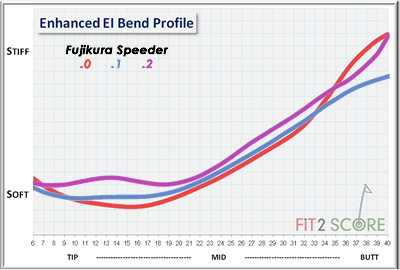 This EI Bend Profile chart clearly shows the differences in the three versions of the "regular" Speeder shafts. It has been our experience fitting these shafts that the VC.0 model is very stable and somewhat stiff in the hands (ie, the butt of the shaft) but has a relatively soft and active tip. The EI bend profile clearly confirms these observations to be correct. The VC.1 model has shown through experience to be somewhat softer in the hands, but slightly stiffer in lower mid/tip of the shaft than the VC.0. Likewise, the VC.2 model through experience seems closer to the feel of the VC.0 in the butt of the shaft, but significantly stiffer than than either the VC.0 or VC.1 in the lower mid and tip sections of the shaft, producing a lower launch and usually lower spin.
Fujikura Fitting Advisor
DevotedGolfer.tv editor Russ Ryden got to talk to Pat McCoy, Director of Tour Operations for Fujikura Composites about the  the online fitting application developed by Fujikura to help the golfer find his fit from the many Fujikura shafts available. Pat has been fitting tour professionals for about 20 years.  His perspective on golf club fitting comes from years of experience fitting the best players with some of the best shafts in the business.

This latest iteration of the venerable Speeder line of shafts from Fujikura is a very high quality, high performance line of shafts. The differences in each shaft in the Speeder line are clearly distinct and easily detected by most players and club fitters through testing. Almost any player can find a Speeder shaft that will work with their swing.  It is easy to see why the Motore Speeder continues to dominate the shaft counts on the major professional tours.