True Temper Project X & Project X PXv Driver Shafts
The Project X brand name came from Royal Precision. Royal Precision, an iron shaft only company, was acquired by True Temper in 2006. The Project X brand name was part of that purchase. Project X branded driver shafts appeared soon after that purchase.  They use the same stiffness designation as the Project X irons shafts, numbers, rather than letters.  The 5.0, 5.5, 6.0, 6.5 & 7.0 numbers designate stiffness.  The original numbering scheme was formula based and came from frequency and length.  The numbering system on the Project X driver shafts, like all other driver shaft stiffness designations I have seen are based on both weight and stiffness.  A heavier 6.0 shaft will also be a stiffer 6,0 shaft.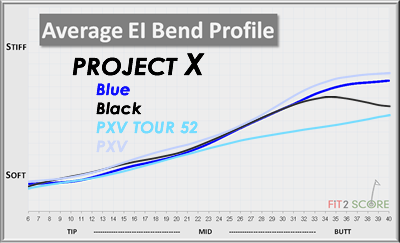 I looked at four versions of the Project X driver shaft, the original Blue, the lighter weight Black, the newer, PXV Tour52 and the PXV.