GRAPHITE DESIGNS TourAD GT DRIVER SHAFT
RANGE TESTS OF THE TourAD DI, DJ, BB, GT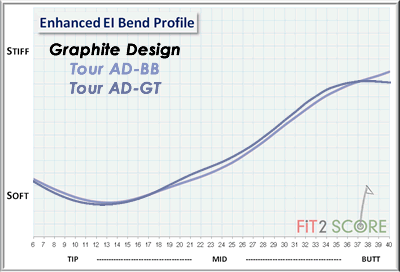 Released in 2013, the Tour AD GT is intended as a higher launching design than the Tour AD BB released in 2012. That was confirmed in our range testing when the proper weight and flex were used. The torque measurements were right between the Tour AD DJ and the Tour AD BB.  The bend profiles are consistent from shaft to shaft. The Tour AD GT like the Tour AD DJ have slightly stiffer midsections as the increase in weight and stiffness.  This is different from the Tour AD BB which maintain exactly the same profile from weight to weight, and flex to flex.
This video is Mark's comments on the feeling from the 8 shafts we tested.