True Temper Project X PXV 39 Driver Shaft

I have seen fair number of driver shafts with labels implying light weights, but I have only seen one shaft that was labeled with a number that actually was the weight of the raw 46″ shaft. The True Temper Project X PXv 39 is correctly labeled. The raw shaft is 39 grams. It is like holding a feather in your hands. When I start measuring a shaft I usually start with the EI profiles. With the Project X PXv 39 I started with radial quality. Surely a shaft this light was likely to have a low number. The number was shocking, the review samples were close to perfect. If you are going to make a shaft with walls as thin as they are on the PXv 39, they need to be perfect. This is a 39 gram shaft that can be oriented in any direction in a rotating hosel. It is the light weight version of the Project X PXv family of shafts.
While the torque numbers at first glance look high, they are as low as I see in shafts of this weight. I would not be putting this shaft in the hands of an aggressive high speed ball striker. However, at 6.4 to 7.0 pounds of butt stiffness, these are not wimpy shafts.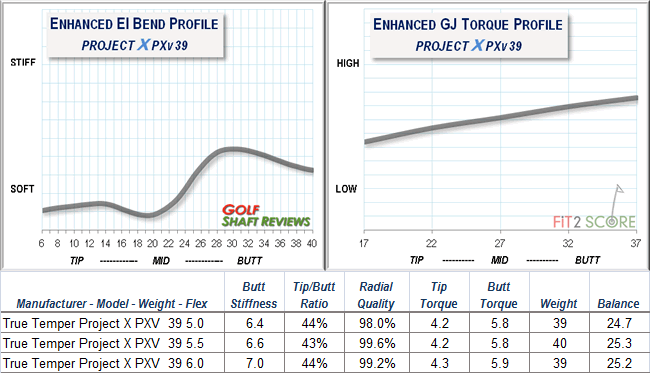 The bend profile is not uncommon for shafts in this weight range. I have had a lot of success fitting a similar profile in this weight range. The quick decline in stiffness in the high mid area, combined with a long stable tip section results in the launch needed in this weight range with good dispersion control. I am seeing this design in a number of high performance golf shafts.

I have heard shaft designers discuss the weight of paint on ultralight driver shafts. There is no elegant glossy overcoat on the Project X PXv 39, every possible aspect of weight control went into this design. It is available only through True Temper Performance Fitting Centers. One look at the wall thickness of the tip and you will quickly realize this shaft should be installed by a competent club builder. High modulus carbon fiber are making designs possible that could not be considered a few years ago. The Project X PXv 39 is one such design.