UST Mamiya VTS Hybrid Tour SPX


The ATTAS VTS hybrid is available in low, medium and high torque models in different weighs and flexes. It lets the fitter explore your sensitivity to torque. This is not a shaft you buy off the shelf, it is designed for custom fitting by a UST certified Tour SPX fitter.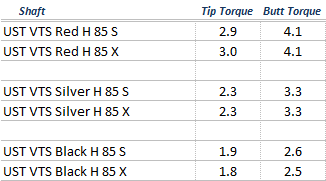 As you can see from the profiles, each of the torque designs has a slightly different EI profile, resulting in slightly different launch tendencies. The Red is a Mid-High launch while the Silver and Black are Low-Mid designs.
These are tour grade shafts, the radial quality and shaft to shaft consistency is excellent. Each shaft is certified by UST with 20 measurements and laser etched with a serial number before it ships. Should you ever need a replacement, the certification document can be used to find a match.