FUJIKURA MOTORE SPEEDER TOUR SPEC HYBRID SHAFT

The Fujikura Motore Speeder Tour Spec hybrid shaft is an extension of the Tour Spec line of shafts from Fujikura. As with the Tour Spec driver and fairway shafts, these hybrid shafts are state of the art shafts designed for elite amateurs and tour players looking for the best performance available.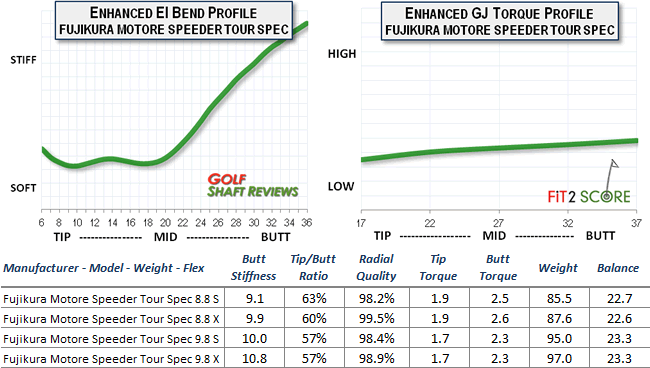 The Tour Spec hybrid shafts are designed with a very stiff butt profile, a moderate mid section and a very stiff tip. Using very high modulus materials, the shaft design team at Fujikura is able to create a shaft with torque numbers approaching those of steel shafts. These low torque values combined with a stiff tip result in outstanding dispersion control and a lower controlled ball flight even for the strongest players.Our personal experience is that there is no greater pleasure than knowing you can count on your hybrid shafts to deliver greens in regulation consistently. And that comes from steel like control. The Fujikura Motore Speeder Hybrid is designed to deliver steel like control in a graphite hybrid shaft.
These Tour Spec hybrid shafts are highly recommended for the elite player or other stronger amateur players with high swing speeds and heavy shaft loads looking for control in vertical launch, ball flight and dispersion that can only come from the state of the art in graphite hybrid shafts.